Coimbatore is the second-largest city in Tamil Nadu and well known for its textile and cultural history. From the historical temple to modern architecture, from High Mountains to picturesque waterfall, Coimbatore is blessed with various beautiful places that make your holiday experience enjoyable.
If you are planning for a relishing trip with your family, friends, or love one searching for the best hotel in Coimbatore near Airport? Coimbatore is filled with various hotels find the right hotel is going to be a daunting task.
Well, you are fortunate to have found one of the prominent hotels in Coimbatore near airport- Crystal Lake stay. Here in this blog, you will find why "crystal lake stay is considered to be one of the best hotels in Coimbatore.
Before jumping to the topic, let ask a question "why it is important to find the right hotel in Coimbatore. While the hotel you stay for your trip might make or break your fun of the vacation.
A good vacation starts with picking up a good hotel. In case you accidentally step into the hotel that might not provide you with essential comfort and hospitality might ruin your vacation pressure.
Therefore it is always important to pick the right hotel in Coimbatore near Airport, which not only saves your money but also provides provide comfort and best hospitality.
Today in this blog, I will list out some of the best highlights of choosing Crystal Lake Stay as your next vacation stay.
Let's begin with one of the obvious reason for choosing the Crystal Lake hotel in Coimbatore near Airport "Accessibility".
Accessibility 
Crystal Lake stays located at the very center of the Coimbatore; therefore, accessing bus stops, railway station, airport and other places becomes much easier. We also provide taxi services. Therefore, you don't have to waste time in booking a cab or catching the bus.
Apart from the accessibility of our hotels in Coimbatore near Airport are situated in the middle of the beautiful surrounding offer a beautiful lake view which refreshes your morning.
Select the Rooms near Airport in Crystal lake Hotel
A good vacation begins with selecting the right hotel that suits to your need. Our hotel in Coimbatore near Airport offers you an extensive range of rooms to choose from. You choose the room as per your requirement.
Standard Rooms, Non Ac rooms near Airport in Crystal lake Hotel
This room is perfect for travellers who just need a compact space to spend a single night. These rooms are crafted with fine interior and featured with spacious rooms and washrooms.
Lake View at Crystal lake Hotel
Refresh your morning with a dazzling view of the Singanallur Lake. Our lake view apartments featured with spacious fully furnished three-bed room and modular kitchen and spectacular balcony to enjoy the beautiful view of the Singanallur Lake. Our lake view apartment comes in different sizes such as a double bedroom or triple bedroom you can choose as per your requirement.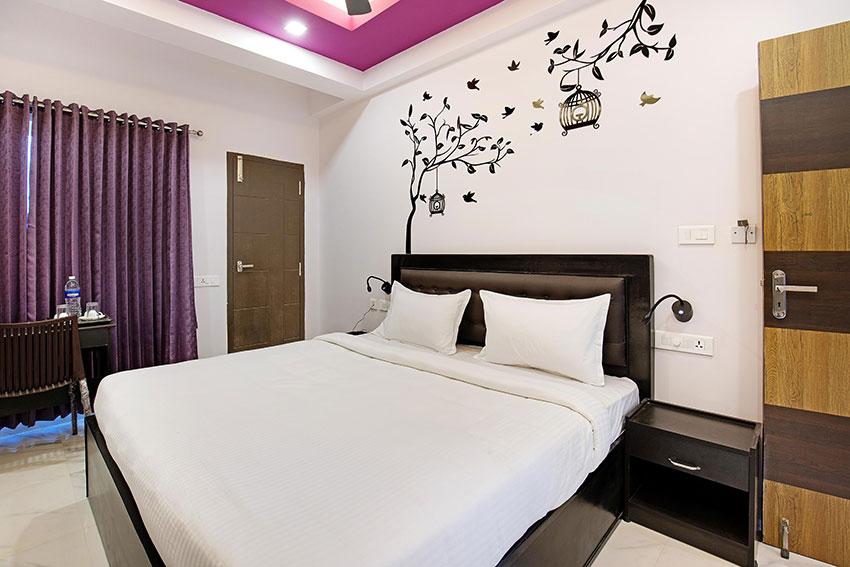 Make your stay comfortable with our deluxe room. Our Deluxe rooms are crafted with a contemporary and classy interior that make you stay more enjoyable. Our deluxe rooms come with airy living rooms, comfy bedrooms, fully furnished modular kitchens.
Crafted with aesthetical interior design which spacious rooms, our execute room will be your perfect vacation stay. Our executive room is suited with well-maintained washroom rooms and comes with LED television.
Safe and Secure Hotel
Safety of travellers is our first priority when it comes to our hotels in Coimbatore near the airport. We ensure you 100 % safety our hotel is backed up with a 24 hours CCTV camera all around the hotel, adequate lighting and security to guard the house.
By choosing our hotel in Coimbatore, you don't have to worry about safety anymore. Whether you are living alone or with a group, we can ensure 100 % safety during our stay in our hotel.
Our security measures do not just stop over there; we offer modular kitchens which are built in accordance with the safety regulation.
Hospitality Services
Our strive to take care of our guest in the way they feel welcomed; we have 24 hours reception services; therefore, you can access them anytime without hesitation. We are very happy to serve you. We are well known by our customers for our exceptional hospitality. Our staffs are well trained and communicate with you in a polite and professional manner.
Other features 
You don't have to stress yourself in cleaning the rooms, just sit back relax while our top classroom services are here to help you. Our room services are available from morning 7 am to night 10 am you can access our room service any time around this time. We also equipped with the fastest internet connection. Therefore, visitors can access our free wi-fi without any restriction. We are backed with high power generators thus you don't have worry about the power cut anymore.